Well, I didn't know where to post this, but I found this old riding story I had saved from last month. The main curvy roads involved are:
the La Bahia Scenic Highway 390 - it runs from Burton to northeast of Brenham, TX
FM 3090 - it runs from north of Navasota close to Carlos
Here's the original post from BeginnerBikes.com:
----------------------------------------
Well, what a great weekend! First it started on Saturday when two of the Austin riders decided to head out to meet the Houston riders in Hempstead for lunch.
After meeting up in Elgin Anthony and I hit the road at about 10 minutes until 10. We took the busy and boring 290 for quite a while. It was nice farmland to take a look at, when you get the chance in between all traffic. So when we hit Burton we decided to try this road I had heard about, La Bahia Scenic Road 390, part of the Texas Independence Trail. I'm telling you, if you're ever in that area, hit this road, it is great. It runs from just outside of Brenham to above it. I'm serious, take this road. I'll have pics later.
So we hit that road, with some very nice sweepers and some gorgeous rural scenery, and just soaked it in. Though the speed limit was 65 mph I did 50 through most of it just because I wanted to take a good look around at all the scenery. There isn't much traffic on this road, very nice. We saw a few riders come the other way so I guess it is no secret in the area.
After 390 we hit 105 and took the quick way back to 290 because I figured we were going to be late for lunch. Well, we did get to Hempstead, and after missing the turn we were looking for we stopped, asked for some directions (yes, some men actually
do
this) and got back on track. Well, we arrived at the restaurant and the parking lot was absolutely barren. Anthony and I parked, took off our gear, and we were there not 5 minutes when the first group of the Houston riders shows up. Talk about timing! So we all said our hellos and talked for a bit when a truck pulled up and a man with his son came to see if the restaurant was open, but nope, it was still closed. Ashley, being our official PR rep, asked them if they could take our picture. As luck would have it the man she asked said he used to be a photographer and started telling us to rearrange our bikes for the best photo opportunity. We got the bikes situated and he took the first pic: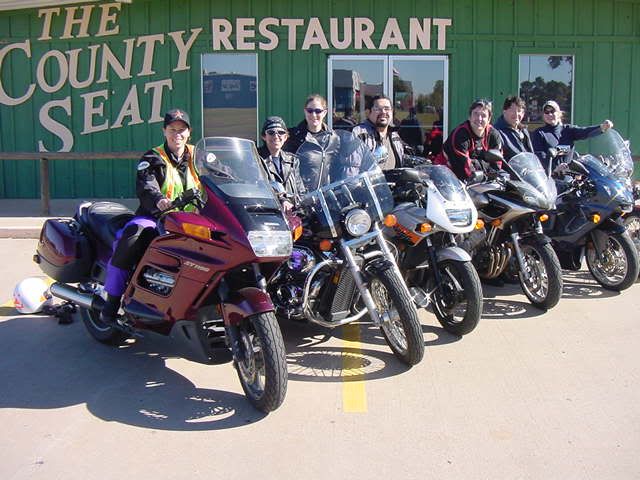 Roll call! Going from left to right, that's Kim on her very nice ST1100, Rhonda on her Honda (it rhymes!), Lindsey, me on my Ninja, Anthony on his FZ6, Kobati on his new ZZR-600, and Ashley on her Vulcan 500, lookin' cool with her hand on her windshield. Then our photographer moved and took this one: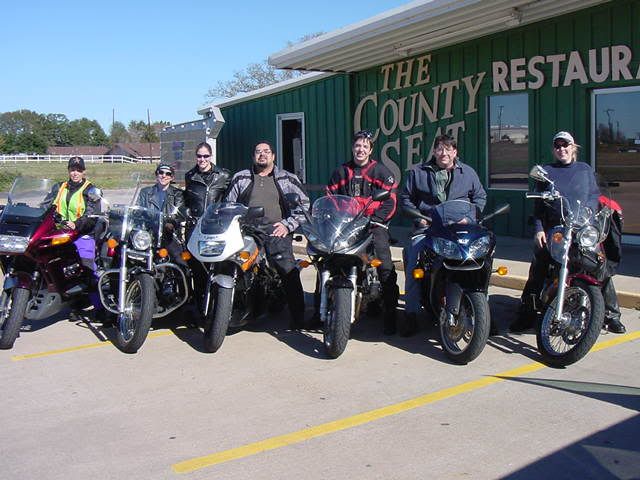 So, after rearranging our bikes just for some photographs with a number of cameras we decided we were gonna hit a mexican restaurant just down the road. After Rhonda got ahold of Liz and Lisa, the two Galveston riders who were held up with a maintenance problem, they agreed to meet us there and we were on our way.
So, 500 feet later we were at the restaurant and I took a pic of all the bikes all lined up. Notice the smiley on Kim's helmet.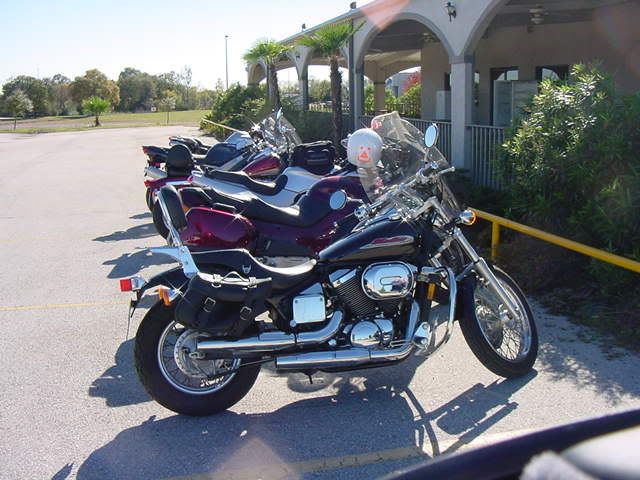 Liz and Lisa showed up later and after a long lunch full of good food, hilarious stories, and great company, Ashley asked someone else to take our picture and we lined up for another. Since a couple more riders joined the cast it was time for another roll call. Top row, left to right, there's me, Liz (IslandRider), Ashley (Hot2Trot), Anthony, Lisa, Ken (Kobati), and Rhonda (Old Cliche). Bottom row, left to right we've got Kim and Lindsay. I gotta tell ya it was great being surrounded by so many ladies. It was a nice change from the norm, 3 guys and 6 ladies at the meet. Very cool.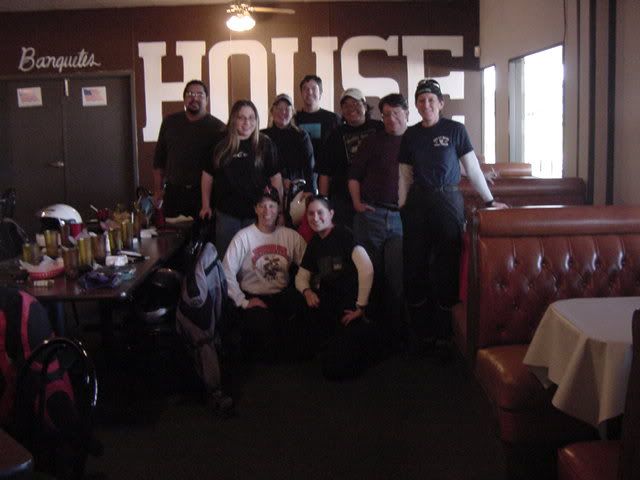 After lunch we hung out in the parking lot for a bit. Another pic of the bikes, that Rhonda's Honda up front.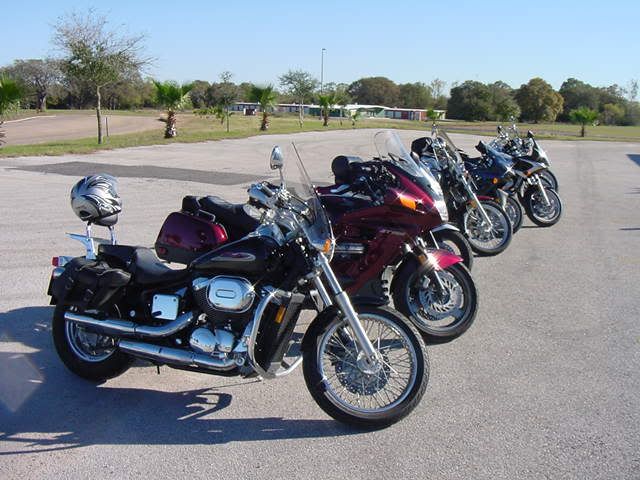 So just before it was time for the Austin riders to head out we took one last pic. Unfortunately no one was around to take the picture so Lindsay did the honors. Apparently I was doing my John Glenn impersonation with hanging way out in space.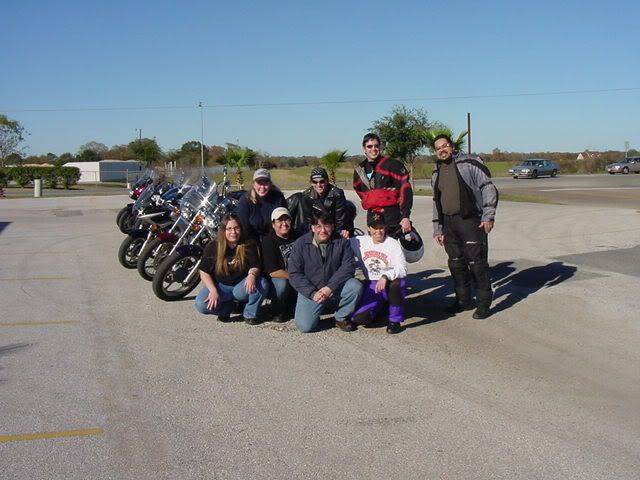 So, after a lunch that went by way too quickly Anthony and I said our goodbyes and saddled up. We ended up now knowing which road we were on so we went out the same way we came in, which ended up just going back around the restaurant. Feeling silly about it I hit the horn and we waved at the Houston riders again as they were still gathered outside the restaurant.
With that, we were on our way back home. Anthony and I decided to hit 390 again, but we took a different way in. After a bit of unattentiveness from me (I totally missed a stop sign in a small town and rolled right through it ) we were deep in some nice sweepers again. This time we took 390 at full speed and had a great time. What a great road. We finally got back to 290 and hot footed it back home. I know I got home just before the sun went down and boy was I freezing in my summer mesh jacket the last few miles back home. I was hoping Anthony was gonna make it home before the sun went down.
Well, it was a great day and it was wonderful seeing the Houston riders again. We've gotta do that again, guys and ladies. Next time, we can meet and then hit some nice roads in the area before we stop for lunch. I've got some great roads I explored that you guys have got to ride.
continued...